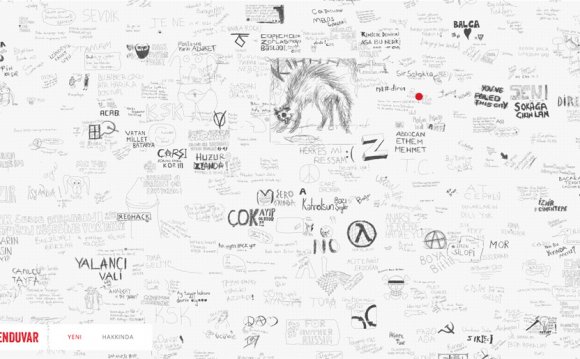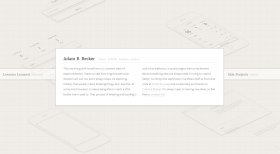 Whether you're creating a portfolio, promoting an app, or introducing your business to potential customers, you want your website to stand out and be memorable, while also effectively capturing and holding visitors' attention. As anyone who has tried to make a website knows, that can be a tall order.
To get your creativity flowing, here are 10 of our favorite fun and unique website layouts to inspire you. With a mix of personal projects and business sites, these professional websites will hopefully spark new ideas and inspire you to break the web design mold, helping you make a website that's both memorable and effective.
Personal portfolios and projects
1. Adam B. Becker: Portfolio site with unique navigation
Website navigation is pretty standardized, and with good reason: people are used to seeing links at the top of the page, for example, so that's where we look for them. That's what makes this atypical design engaging—not necessarily intuitive, but interesting to explore.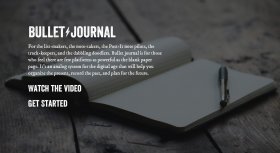 2. Bullet Journal: How-to instructions in a one-page design
Created by art director Ryder Carroll, Bullet Journal is a note-taking style that Carroll explains in this one-page site design. Describing his concept with simple explanations and a diagram that updates as you progress through the directions, it's a thoughtfully done how-to page.
A promotional site for the book Ctrl Alt Delete by digital marketing expert Mitch Joel, this website uses one-page design and parallax scrolling to make it feel like you're turning through a flip book. As you scroll through the site, images and information flow across the page—a modern and engaging effect.
4. Kevin Kim: Resume information in a one-page design
When it comes to putting your resume online, it's easy to set up your LinkedIn profile and call it a day. This site from Kevin Kim shows how you can share your resume online in a way that's unique and interesting, and showcases both your skills and personality.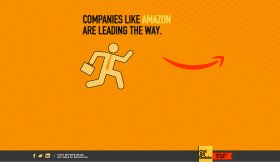 5. Kristi Hines: Highlighting a freelance writer's work
On the practical side of things, Kristi Hines (perhaps more well-known as @kikolani on Twitter) has done a great job with the difficult task of highlighting her services as a freelance writer, blogger, and consultant. If you browse through portfolio websites, you'll find that most of the great-looking ones look good for a reason—they're owned by illustrators, designers, or other creatives. Writers tend to go for clean and basic; while this site reflects those qualities, too, it does so in a way that's fresh and more visual than its peers.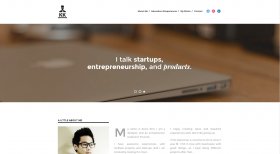 6. Stuck In Customs: Portfolio balanced with information resources
Trey Ratcliff is a photographer who's known not only for his photos but also the resources he provides for aspiring photographers. His website highlights both, but places a significant emphasis on his photography—which makes perfect sense for someone whose portfolio is so captivating.
Business sites
7. GoodUI: Sharing ideas with a focus on conversion
Unsurprisingly, the Good UI page isn't complex; in fact, it's about as basic as you can get. Focused on getting conversions without being "spammy, " the page hosts a running list of simple user interface (UI) ideas—many of which are reflected in the design of the page itself—and it ends with an invitation to sign up. That's it. The site very subtly showcases the work of Linowski Interaction Design, the company behind the project. And, with some 35, 000+ people now subscribed to the GoodUI newsletter, it's a simple and focused concept that seems to work.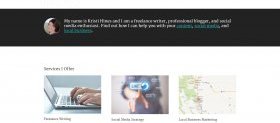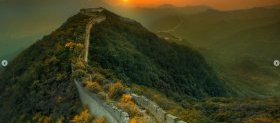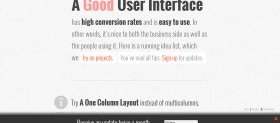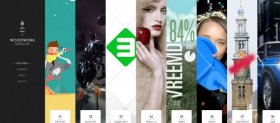 YOU MIGHT ALSO LIKE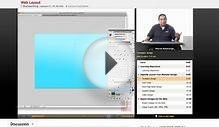 Web Design - Web Layout & Template Design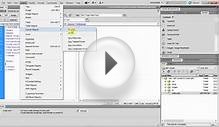 Creating a web page layout using Twitter Bootstrap 3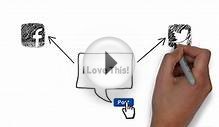 Cloudpage
Share this Post