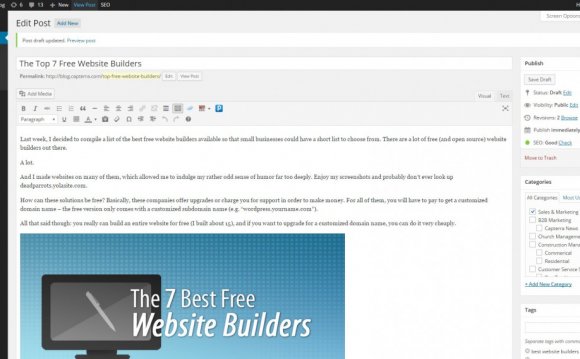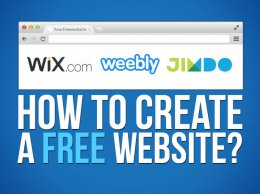 Free website builders from Wix, Weebly and Jimdo
Plenty of online providers offer free plans for you to build your own website. These are usually based on free website building software, and because hosting is included, you don't even have to worry about web space.
This sounds like a pretty good deal, and it's often worth taking a closer look. We decided to save you some work and do it for you.
So who really pays for these free plans?
It's true that the best things in life are free, but this generally only applies to the intangibles. Hosting a website, on the other hand, clearly costs the provider money. They have to cover the cost of running their servers, marketing their services, not to mention ongoing development.
Which free website plans are worth checking out?
Here are some more details on the free plans offered by four of the best providers.
Provider
Domain
Storage
Overall impression
Jimdo
(Review)
Logo in footer
Free subdomain
500 MB
Solid product with unlimited pages. Little advertising.
Weebly
(Review)
Logo & expandable sign-up form in footer
Unlimited
You can go very far with Weebly's free plan thanks to unlimited web space. The ad-bar at the bottom of the page is a bit too much.
Webnode
(Review)
100 MB
Could do with more storage, otherwise very good. Unlimited pages.
Wix.com
(Review)
Logo in footer and Header
Good product, but very intrusive logos both in the header and the footer of the page. Bandwidth limit of 1 Gb per month.
Need a proper domain name? The website builders in this table only provide free sub-domains. If you're looking for a "real" domain name you may want to take a look at One.com. Currently they offer the first year for free. It renews at a relatively affordable per year (including domain name, web space and web editor). Find out more in our One.com review.
What do you miss out on with a free website?
You won't get a proper domain name, because .com or .net domains always come at a cost. Most providers will give you a subdomain such as yourname.providername.com.
This may be fine for a personal website, but a subdomain is not recommended for professional or commercial sites for the following reasons:
It looks unprofessional.
You're not doing yourself any favors in terms of search engine rankings.
It's not easy to remember such a long name
In addition, many providers will run advertisements for their own or other businesses on your free website – again, not a professional look.
Then there are the providers who offer only dated or unattractive layouts on their free plans, and keep the good designs for their paid plans.
Free site builders: Our conclusion
Jimdo's and Weebly's free plans (links open in new window) are very attractive. But it's important not to be blinded by the word "free."
Once you've built your website, moving it to a new provider can be quite a hassle. So remember to take your future plans into consideration when weighing up your options, especially if you might want to get a proper domain name, matching email addresses or an ad-free version of your website at some stage in the future.
There are also many other criteria to take into account, such as technical support or extra features like an online store or overall ease of use.
Review Updates
It is not longer possible to use an existing domain name with your free Webnode site.We included Wix.com in our selection; it provides a free plan, which is excellent for creative people. We added a new video with all the updated information.
Webnode states on their pricing overview that you can't connect an existing domain name to a free Webnode site. However, this only applies in a few cases, generally it should still be possible. If it doesn't work in your case please let us know and we will check it for you.Weebly's free plan continues to deteriorate: now there is an ad bar in the footer with a Weebly sign-up form.
: It's no longer possible to use an existing domain name with your free Weebly site. That's why they are only second in our ranking now.
YOU MIGHT ALSO LIKE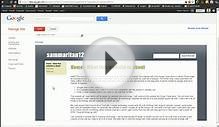 Google Sites - One of the best free website builders
Best and Quick Website Builder - Free Website Builder ...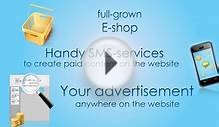 uCoz free website builder
Share this Post